Interim Management Chemistry
Challenges in Interim Management – The Chemical Industry
The German chemical industry with its world-wide operating companies stands for sophisticated research and development as well as for high quality and reliable products which form the basis for countless other added value supply chains. This branch of industry covers a broad field and produces, for example, basic chemicals or specific pharmaceutical products and agrochemicals.
Innovations and sustainability
In addition to innovation, the sector has also been focusing on sustainability for some years now, which calls for more environmentally-friendly manufacturing processes and technologies. In addition, the sector has to deal with increasingly comprehensive safety standards and health regulations as well as, at present, the effects of the energy crisis.
The situation is challenging and demands a high degree of flexibility and permanently changing alignments. In order to meet these challenges on a daily basis, business processes must function smoothly. If key positions at the C-level are vacant, it is essential that they be filled as quickly as possible, so as not to jeopardize the company´s ability to generate added value. Competitiveness remains a major challenge – especially in the face of international competition. That is why it is certainly well worthwhile for companies to opt for an interim solution.
Valuable input for your company
Our interim managers gain an overview of their field of work as well as the strategic orientation and goals of the company. Thanks to their high degree of innovative power and excellent communication skills, they are able to initiate new projects, optimize structures and carry out the necessary restructuring after only a short induction period.
They are a reliable and responsible management partner, lead their respective employees with outstanding leadership skills and act in the interests of the company at all times. Thanks to their many years of experience in the industry, they have a wealth of specialized knowledge and all the necessary background information at their disposal.
For companies in the chemical industry, it is highly advisable to fill vacant C-level positions with an interim specialist as quickly as possible and not give the competition in the market an unnecessary advantage.
With expertise at your side
Reckers & Griesbach staffs management positions in companies – permanently and on an interim basis. From recruiting to conducting the selection process, we are at your side with professional expertise and a global network. Our mission is to fill your vacant positions with top executives who are a good fit for both you and your company. After all, nothing is more important than having the right person in the right job.
About Interim Management
You don't want to lose any time in your personnel search? We fill transitional and efficient leadership positions with competence and added value. Nationally and internationally. Due to classic vacancy bridging and new projects, there is always a short-term need for qualified leaders. In addition, there may be restructing in the company, whether due to growth, a takeover or scare production and personnel resources. Learn more about Interim Management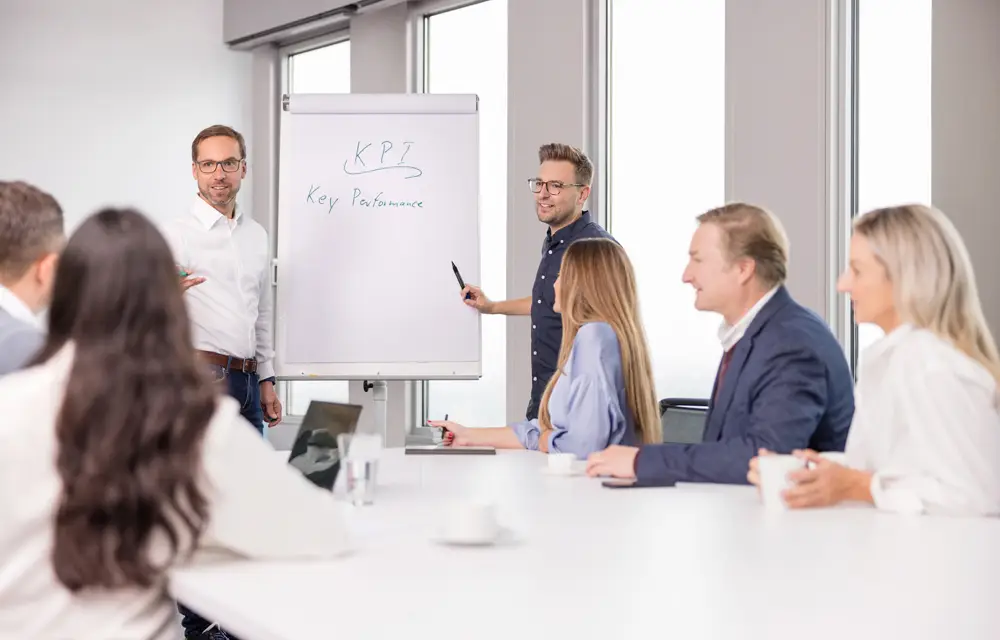 What and constitutes
The human touch combined with expert knowledge
Through our many years of experience we have the necessary industry knowledge and an extensive network. Even so, the most important thing about finding the best talent is this: a sense for recognizing who is perfect for a position. In other words: a person who will bring something new to the table, fit with your corporate culture, and make a lasting, positive difference.
Success comes from taking risks – and being smart about it
After finding out exactly what you need, we take an outside-the-box approach to find the ideal talent. As well as focusing on your industry, we look beyond it to promising people from other fields who might just be ready for a new challenge. We ensure a targeted selection based on customer needs.
Tailormade solutions
We don't believe in catch-all solutions. Instead, we work with you to find an approach that meets all of your needs. If we don't think hiring a new executive is a good idea, we'll let you know. And if we believe an interim or internal solution makes more sense in the current market climate, we'll tell you that, too.
We fill leadership positions. Permanent and Interim.