Interim Management Consumer Goods
Interim Management Consumer Goods as a boost for your brand
The purchasing of consumer goods is based on different interests, trends and currents. Products are purchased because of their price, their quality or their brand and the lifestyle that goes with it. It doesn´t matter whether we are talking about food, clothing, body care or pet food – the motives for a purchase are multi-layered. In addition, there are goods that are intended for long-term use as well as everyday consumer goods. All in all, this is an industry with a wide range of products.
Recognize trends
In every sector, trends are constantly emerging. For example, consumers are currently opting for organic food products, and demand for dietary supplements and other diet products is also high. In the case of durable consumer goods such as furniture and clothing, there is currently a trend toward second-hand purchases.
Every consumer goods sector is always a reflection of consumers` lifestyles. It is therefore essential to know the market and the interest of the target group. This also includes their lifestyles, social trends, but also the influencing factors from the media industry.
Managers in companies in this industry must always stay up to date, act flexibly and make permanent strategic adjustments in order to keep the company competitive. Vacant positions at these key hubs should definitely be filled as quickly as possible. An interim manager provides the time needed for a carefully assessed personnel selection and is also far more than just a perfect solution in terms of providing content for the recruitment process.
One step ahead
Experienced and equipped with professional know-how as well as with a comprehensive network at his disposal, an interim specialist is immediately able to get involved in the operational business. He is used to being agile and reacting immediately to new trends, while always keeping an eye on the underlying corporate strategy. The consumer goods industry is characterized by fast-moving dynamics.
Making sound decisions immediately in the interests of the company and initiating the necessary restructuring can ultimately mean the decisive competitive edge for the company. Interim managers in the consumer goods sector have years of expertise and a natural feel for people and trends.
With expertise at your side
Reckers & Griesbach staffs management positions in companies – permanently and on an interim basis. From recruiting to conducting the selection process, we are at your side with professional expertise and a global network. Our mission is to fill your vacant positions with top executives who are a good fit for both you and your company. After all, nothing is more important than having the right person in the right job.
About Interim Management
You don't want to lose any time in your personnel search? We fill transitional and efficient leadership positions with competence and added value. Nationally and internationally. Due to classic vacancy bridging and new projects, there is always a short-term need for qualified leaders. In addition, there may be restructing in the company, whether due to growth, a takeover or scare production and personnel resources. Learn more about Interim Management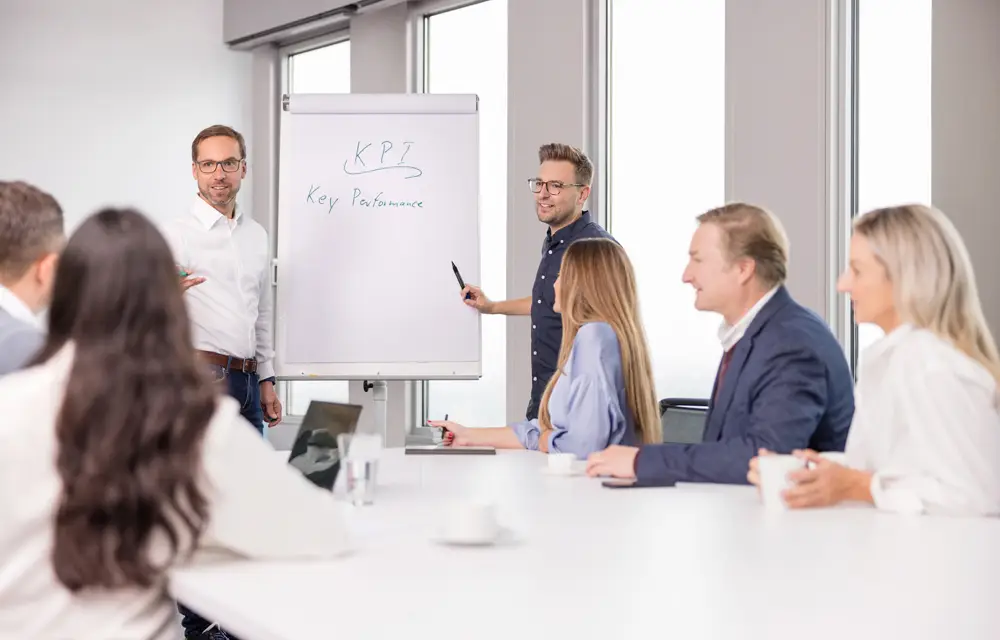 What and constitutes
The human touch combined with expert knowledge
Through our many years of experience we have the necessary industry knowledge and an extensive network. Even so, the most important thing about finding the best talent is this: a sense for recognizing who is perfect for a position. In other words: a person who will bring something new to the table, fit with your corporate culture, and make a lasting, positive difference.
Success comes from taking risks – and being smart about it
After finding out exactly what you need, we take an outside-the-box approach to find the ideal talent. As well as focusing on your industry, we look beyond it to promising people from other fields who might just be ready for a new challenge. We ensure a targeted selection based on customer needs.
Tailormade solutions
We don't believe in catch-all solutions. Instead, we work with you to find an approach that meets all of your needs. If we don't think hiring a new executive is a good idea, we'll let you know. And if we believe an interim or internal solution makes more sense in the current market climate, we'll tell you that, too.
We fill leadership positions. Permanent and Interim.