Interim Management Digital
Solid decisions in spite of the fast pace: Interim Management – Digitalization
Unlike any other industry, the digitalization sector has an across-the-board and cross-sector function. Digitalization spans across all industries and influences all production and business processes.
The information technology and telecommunication sectors,
in particular, are highly relevant to digitalization. However, this transition process is not limited to the business world; it is also shaping the everyday life of each and every individual. The advent of the smartphone changed the entire nature of communication worldwide. Giant companies like Apple and Google are now omnipresent. Digitalization is advancing rapidly – and fast access to knowledge and information is of primary importance.
The digital pace is – without question – a challenge for many people, but it also offers wide-ranging opportunities for our standard of living, the infrastructure and the digital skills of private individuals, administrations and companies. The latter cannot afford to allow gaps in their IT when it comes to their staff. In order to facilitate a well thought-out recruitment process and yet not put your company at a competitive disadvantage during this time, the solution is to assign an interim manager for digitalization.
Nothing is as old as yesterday´s newspaper
What was once true about newspapers is now true about digital products and services. Any and all innovations quickly lose their relevance, as all developments are advancing at a rapid pace. For interim managers in the field of digitalization, therefore, nothing is more important than keeping pace. The cornerstone of their mindset is their extensive expertise – a high level of technical affinity as well as a comprehensive understanding of digital innovations.
Being able to quickly communicate this knowledge to employees and delegate tasks also requires strong communication skills and savvy decision making. At the same time, interim managers are used to never losing sight of the company´s strategic goals and maintaining close contact with management.
With expertise at your side
Reckers & Griesbach staffs management positions in companies – permanently and on an interim basis. From recruiting to conducting the selection process, we are at your side with professional expertise and a global network. Our mission is to fill your vacant positions with top executives who are a good fit for both you and your company. After all, nothing is more important than having the right person in the right job.
About Interim Management
You don't want to lose any time in your personnel search? We fill transitional and efficient leadership positions with competence and added value. Nationally and internationally. Due to classic vacancy bridging and new projects, there is always a short-term need for qualified leaders. In addition, there may be restructing in the company, whether due to growth, a takeover or scare production and personnel resources. Learn more about Interim Management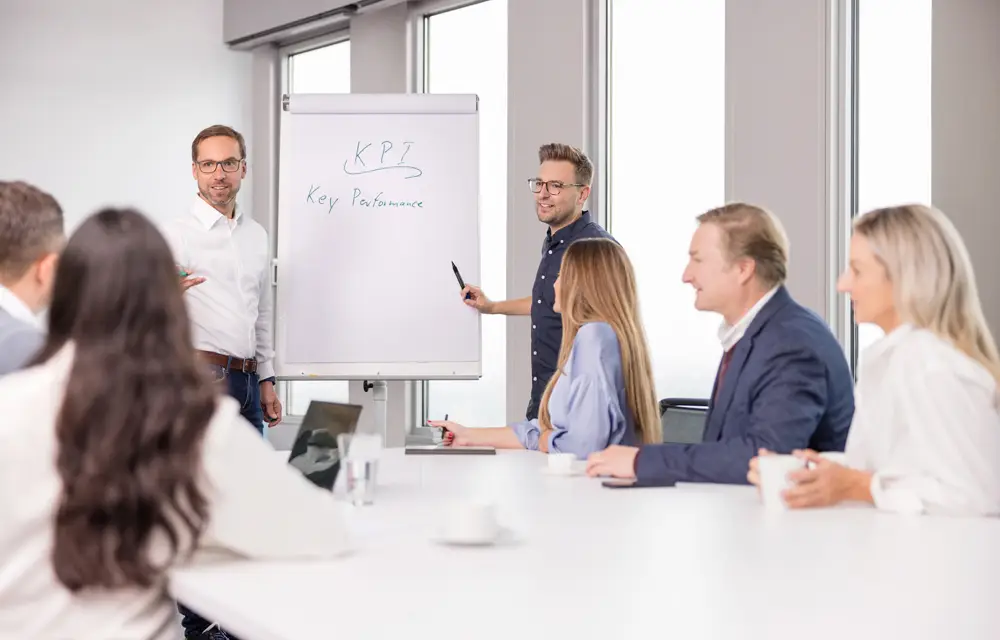 What and constitutes
The human touch combined with expert knowledge
Through our many years of experience we have the necessary industry knowledge and an extensive network. Even so, the most important thing about finding the best talent is this: a sense for recognizing who is perfect for a position. In other words: a person who will bring something new to the table, fit with your corporate culture, and make a lasting, positive difference.
Success comes from taking risks – and being smart about it
After finding out exactly what you need, we take an outside-the-box approach to find the ideal talent. As well as focusing on your industry, we look beyond it to promising people from other fields who might just be ready for a new challenge. We ensure a targeted selection based on customer needs.
Tailormade solutions
We don't believe in catch-all solutions. Instead, we work with you to find an approach that meets all of your needs. If we don't think hiring a new executive is a good idea, we'll let you know. And if we believe an interim or internal solution makes more sense in the current market climate, we'll tell you that, too.
We fill leadership positions. Permanent and Interim.