Interim Management Energy
Major tasks for Interim Management – Energy
Hardly any other branch of industry is undergoing as many changes as the energy sector. And the focus is always on the expansion of renewable energies, the increase of power grids and a more environmentally friendly and significantly reduced use of fossil fuels. The clear goal of the entire industry is to mitigate climate change and achieve the energy turnaround.
Energy supply
A secure energy supply has become even more relevant due to Russia´s attack on Ukraine and the resulting supply bottlenecks. The range of tasks could not be more extensive and at the same time, more pressing. Thus, it is imperative in all companies in this segment to keep key positions filled. If top positions at management level become vacant, it is imperative to react without delay.
Strong in terms of implementation and with a weakness for challenges
The assignment of an interim manager brings with it a great potential for finding solutions. On the one hand, he knows all the technical challenges and is always able to base his decisions on the complex overall situation in the industry, but at the same time also on the strategy of the company. His skills include exceptional analytical ability, decision-making competence, solution orientation as well as the communication skills he needs to deliver content. Interim managers are used to always keeping an eye on the big picture as well as on all the little details at the same time, and to reacting flexibly and innovatively even to unforeseen developments.
Every company can benefit from this panoramic perspective of the interim expert. Innovations are brought to market more quickly and traditional and well-worn structures are optimized. There is no question that this valuable input helps a company to move forward more quickly. The fact that a vacant position in the management area also poses a market risk is equally undisputed.
With expertise at your side
Reckers & Griesbach staffs management positions in companies – permanently and on an interim basis. From recruiting to conducting the selection process, we are at your side with professional expertise and a global network. Our mission is to fill your vacant positions with top executives who are a good fit for both you and your company. After all, nothing is more important than having the right person in the right job.
About Interim Management
You don't want to lose any time in your personnel search? We fill transitional and efficient leadership positions with competence and added value. Nationally and internationally. Due to classic vacancy bridging and new projects, there is always a short-term need for qualified leaders. In addition, there may be restructing in the company, whether due to growth, a takeover or scare production and personnel resources. Learn more about Interim Management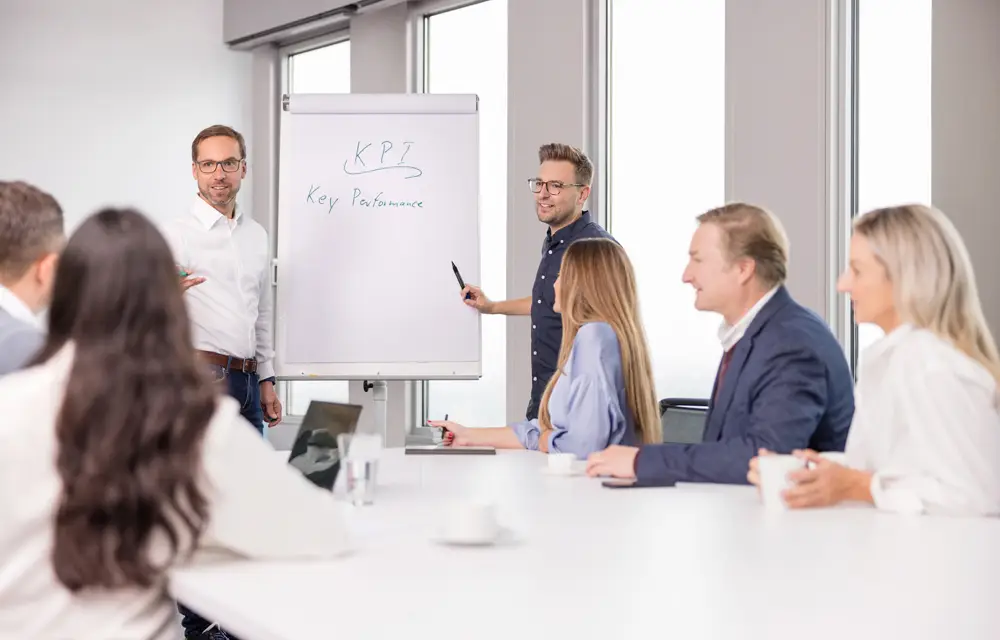 What and constitutes
The human touch combined with expert knowledge
Through our many years of experience we have the necessary industry knowledge and an extensive network. Even so, the most important thing about finding the best talent is this: a sense for recognizing who is perfect for a position. In other words: a person who will bring something new to the table, fit with your corporate culture, and make a lasting, positive difference.
Success comes from taking risks – and being smart about it
After finding out exactly what you need, we take an outside-the-box approach to find the ideal talent. As well as focusing on your industry, we look beyond it to promising people from other fields who might just be ready for a new challenge. We ensure a targeted selection based on customer needs.
Tailormade solutions
We don't believe in catch-all solutions. Instead, we work with you to find an approach that meets all of your needs. If we don't think hiring a new executive is a good idea, we'll let you know. And if we believe an interim or internal solution makes more sense in the current market climate, we'll tell you that, too.
We fill leadership positions. Permanent and Interim.