Interim Management HVAC as a safe bet
Large buildings such as hospitals, office buildings or shopping complexes require reliable systems that regulate heating, ventilation and air conditioning. Smaller buildings or private households, on the other hand, rely on individual units.
Info: HVAC stands for Heating, Ventilation and Air Conditioning.
HVAC Industry
The demand levels in the HVAC industry are subject to seasonal fluctuations. In the summer months, demand for air-conditioning units increases, while during the cold season, heating systems are in demand. But these swing periods are only rough indicators, because even a rainy, overly cold summer can lead to a slump in air conditioning sales. In addition, seasons that are extreme, i.e. a very hot summer or a very cold winter, lead to a sudden increase in demand and production has to be ramped up within a very short time.
In other words, it is difficult to make forecasts in the HVAC industry. The industry therefore needs concepts that are designed to respond spontaneously to unpredictability. This flexibility is necessary not only for the HVAC equipment manufacturers, but also for suppliers. Production volumes must be continuously adapted to meet customers` requirements. What is essential here is a comprehensive knowledge of the industry, good judgment and the ability to make the right decisions quickly.
Vacant top positions must not remain unfilled for long in such a volatile industry. However, due to the shortage of skilled workers and the very specific requirements of the position, recruitment processes can often drag on for a long time. In order to avoid giving competitors in the market an unnecessary competitive edge, an interim solution provides the necessary peace of mind for the personnel search and also plenty of valuable expertise from which a company can benefit.
With competent decisions to counteract unforseeable circumstances
Interim managers in the HVAC sector possess a high level of expertise within their industry as well as in the interface areas with other relevant sectors of the economy. Their day-to-day skills include above-average intuition, quick, well-founded decisions and the immediate initiation of necessary measures. In addition, they have a pronounced understanding of logistics and demonstrate an appreciative approach to communication with their employees. The latter is absolutely essential, as response and action frequently have to be taken under time pressure.
With expertise at your side
Reckers & Griesbach staffs management positions in companies – permanently and on an interim basis. From recruiting to conducting the selection process, we are at your side with professional expertise and a global network. Our mission is to fill your vacant positions with top executives who are a good fit for both you and your company. After all, nothing is more important than having the right person in the right job.
About Interim Management
You don't want to lose any time in your personnel search? We fill transitional and efficient leadership positions with competence and added value. Nationally and internationally. Due to classic vacancy bridging and new projects, there is always a short-term need for qualified leaders. In addition, there may be restructing in the company, whether due to growth, a takeover or scare production and personnel resources. Learn more about Interim Management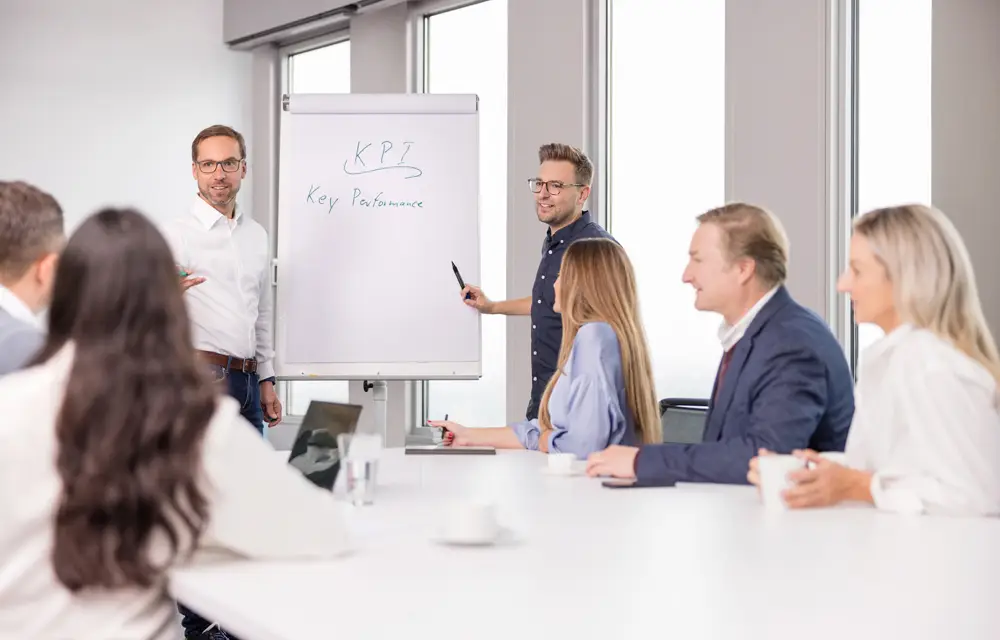 What and constitutes
The human touch combined with expert knowledge
Through our many years of experience we have the necessary industry knowledge and an extensive network. Even so, the most important thing about finding the best talent is this: a sense for recognizing who is perfect for a position. In other words: a person who will bring something new to the table, fit with your corporate culture, and make a lasting, positive difference.
Success comes from taking risks – and being smart about it
After finding out exactly what you need, we take an outside-the-box approach to find the ideal talent. As well as focusing on your industry, we look beyond it to promising people from other fields who might just be ready for a new challenge. We ensure a targeted selection based on customer needs.
Tailormade solutions
We don't believe in catch-all solutions. Instead, we work with you to find an approach that meets all of your needs. If we don't think hiring a new executive is a good idea, we'll let you know. And if we believe an interim or internal solution makes more sense in the current market climate, we'll tell you that, too.
We fill leadership positions. Permanent and Interim.