Interim Management Mechanical Engineering
Interim Management – Mechanical Engineering as a solution in challenging times
Mechanical engineering is one of Germany´s leading industries. The broad spectrum of tasks ranges from Research & Development to design and technical support. With its 900,000 employees throughout Germany and 300,000 worldwide, the industry is also geared to be export-oriented.
An exciting industry
Mechanical engineering interacts closely with other segments of industry, and whether developing tooth belts for drive systems or servicing equipment, all tasks are united by forward thinking. New challenges every day, advances in digitalization and global competition – in order to survive in the market- calls for a high degree of flexibility and solution orientation in addition to an in-depth technical understanding. Without these skills, things would get really tough.
Companies with vacant top positions in mechanical engineering can no longer afford to leave these interfaces unmanned for the duration of the recruitment and selection process. It is too important to be able to count on reliable managers with leadership qualities in these key positions. And furthermore, the risk of suffering a slump in sales due to vacancies is just too great. Relying on an interim specialist at this point is a proven strategy for successfully navigating around this potential pitfall.
If the mountain is too high, the equipment is not right
If the mountain is too high, the equipment is not right Interim managers in mechanical engineering are used to thinking in a solution-oriented way. They develop new strategies, have a high affinity for innovation and get directly and constructively involved in the day-to-day running of the company. Equally indispensable is their excellent understanding of digitalization, which is currently confronting the entire mechanical engineering industry with new challenges and will continue to do so in the future.
The digital transformation means that countless jobs will be performed exclusively by machines in the future. In addition, and based on a global comparison study, Germany is considered to be one of the world´s most unattractive production locations due to the high costs of energy and manpower. These challenges are resulting in a shift in the focus of work: with a clear emphasis on Research & Development, programming and technical support.
This makes it all the more relevant to fill vacant top position in this segment on an interim basis so that Mechanical Engineering 4.0 can perform successfully with its processes, and that unnecessary pressure is taken out of the recruitment process.
With expertise at your side
Reckers & Griesbach staffs management positions in companies – permanently and on an interim basis. From recruiting to conducting the selection process, we are at your side with professional expertise and a global network. Our mission is to fill your vacant positions with top executives who are a good fit for both you and your company. After all, nothing is more important than having the right person in the right job.
About Interim Management
You don't want to lose any time in your personnel search? We fill transitional and efficient leadership positions with competence and added value. Nationally and internationally. Due to classic vacancy bridging and new projects, there is always a short-term need for qualified leaders. In addition, there may be restructing in the company, whether due to growth, a takeover or scare production and personnel resources. Learn more about Interim Management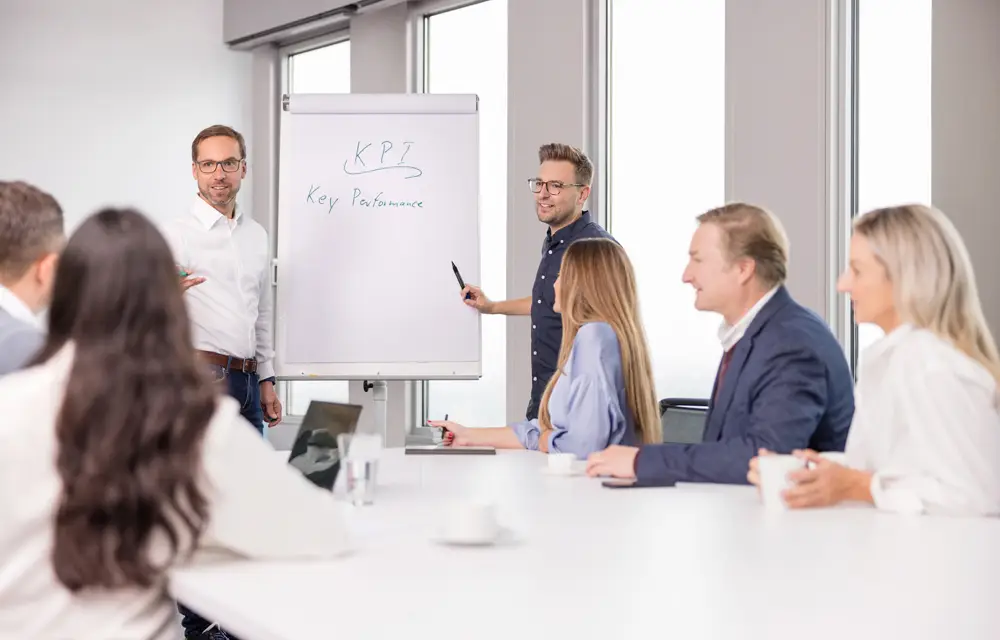 What and constitutes
The human touch combined with expert knowledge
Through our many years of experience we have the necessary industry knowledge and an extensive network. Even so, the most important thing about finding the best talent is this: a sense for recognizing who is perfect for a position. In other words: a person who will bring something new to the table, fit with your corporate culture, and make a lasting, positive difference.
Success comes from taking risks – and being smart about it
After finding out exactly what you need, we take an outside-the-box approach to find the ideal talent. As well as focusing on your industry, we look beyond it to promising people from other fields who might just be ready for a new challenge. We ensure a targeted selection based on customer needs.
Tailormade solutions
We don't believe in catch-all solutions. Instead, we work with you to find an approach that meets all of your needs. If we don't think hiring a new executive is a good idea, we'll let you know. And if we believe an interim or internal solution makes more sense in the current market climate, we'll tell you that, too.
We fill leadership positions. Permanent and Interim.