Interim Management Packaging
Solution-oriented input: Interim management – Packaging
On the international level, Germany is one of the largest producers of paper, packaging board and cardboard. The industrial sector of the packaging industry is divided into the following five segments – paper, plastic, metal, glass and wood. Due to the dramatic growth of e-commerce, the demand for packaging material made of cardboard, paperboard and corrugated cardboard is increasing, with the main customer being the food industry.
Sustainable packaging industry
At the same time, the German packaging industry is focusing on sustainability in its production and is leading the way: More than three quarters of paper products are already made from recycled paper and many plastic packaging products are being replaced by the ecologically more compatible material cellulose, particularly in the food sector.
With the energy crisis, the challenges for this industry have increased significantly. There will have to be an even greater focus on new technologies and materials in the future. Innovative ability and creativity are also in demand. No company in this industry can afford to have staff shortages. If positions are vacant, they must be filled as quickly as possible. If positions are vacant, they must be filled as quickly as possible. Bringing in an interim manager buys the company time and also provides valuable resources in the form of industry-specific know-how and strategic and forward thinking.
Always with an eye to the future
Interim managers in the packaging industry, which is considered to be the link between product manufacturers and end consumers, are used to getting off to a fast start. They evaluate existing structures in the shortest possible time, recognize potential and drive the company forward with valuable input. They also possess a high digital affinity. Tomorrow´s packaging is more differentiated and sophisticated.
The advent of new technologies such as The introduction of new technologies such as RFID enables, among other things, a more targeted selection of materials or more comprehensive tracking of products in the food industry. In order to be able to win over employees for these innovations and the steps required for their implementation, calls for a high level of communication skills and a progressive management style.
With expertise at your side
Reckers & Griesbach staffs management positions in companies – permanently and on an interim basis. From recruiting to conducting the selection process, we are at your side with professional expertise and a global network. Our mission is to fill your vacant positions with top executives who are a good fit for both you and your company. After all, nothing is more important than having the right person in the right job.
About Interim Management
You don't want to lose any time in your personnel search? We fill transitional and efficient leadership positions with competence and added value. Nationally and internationally. Due to classic vacancy bridging and new projects, there is always a short-term need for qualified leaders. In addition, there may be restructing in the company, whether due to growth, a takeover or scare production and personnel resources. Learn more about Interim Management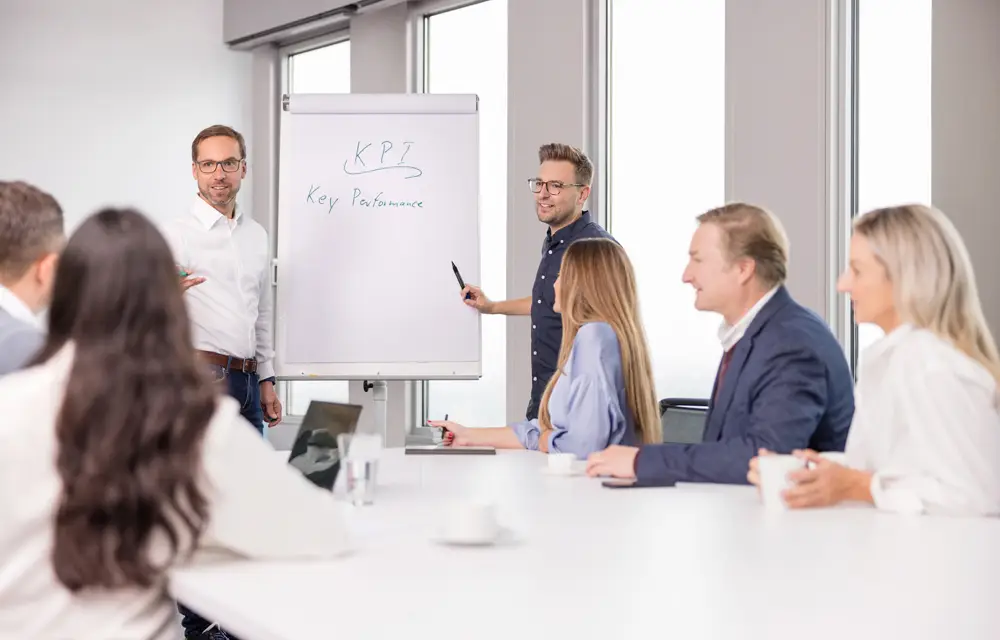 What and constitutes
The human touch combined with expert knowledge
Through our many years of experience we have the necessary industry knowledge and an extensive network. Even so, the most important thing about finding the best talent is this: a sense for recognizing who is perfect for a position. In other words: a person who will bring something new to the table, fit with your corporate culture, and make a lasting, positive difference.
Success comes from taking risks – and being smart about it
After finding out exactly what you need, we take an outside-the-box approach to find the ideal talent. As well as focusing on your industry, we look beyond it to promising people from other fields who might just be ready for a new challenge. We ensure a targeted selection based on customer needs.
Tailormade solutions
We don't believe in catch-all solutions. Instead, we work with you to find an approach that meets all of your needs. If we don't think hiring a new executive is a good idea, we'll let you know. And if we believe an interim or internal solution makes more sense in the current market climate, we'll tell you that, too.
We fill leadership positions. Permanent and Interim.