Interim Management Pharma
Interim Management – Pharmaceuticals as a clear advantage for companies
One of Germany´s most important industries is the pharmaceutical industry and its products for human and veterinary medicine. 817 pharmaceutical companies are currently producing everything from headache tablets to vaccines
Pharmaceutical industry invests large sums
They invest large sums in research and the development of new drugs, primarily for pain therapy as well as for the field of oncology, the fastest-growing segment of their industry in terms of sales. Pharmaceutical manufacturers have long come to terms with these overall conditions. Once patent protection expires, sales drop dramatically. The time span for profits is therefore identical to the life of the patent.
Pharmaceutical manufacturers have long come to terms with these overall conditions. The current restrictions resulting from the energy crisis are also causing problems for the entire industry, as they require a high degree of flexibility and innovative ideas in order to remain profitable. Many basic products were derived from the chemical industry, which has drastically reduced its production due to the increase in energy prices.
It is particularly critical in these times of uncertainty to eliminate additional critical components. No pharmaceutical company can afford to have vacant C-level positions at present. The risk of suffering a slump in the generation of added value is far too great. It is here, therefore, that the assignment of an interim manager offers clear advantages and makes it possible to act in a structured and goal-oriented manner even in difficult times.
Stability and reliability thanks to an interim solution
Every interim manager is accustomed to gaining an overview of the new work area in the shortest possible time in order to then jump into action as quickly as possible. By virtue of already being communicative and professionally competent, enables him to stimulate change, drive processes forward and simultaneously keep the company´s goals in mind.
In doing so, he works at eye level – both with management and with his employees. After all, success is only possible in the long term if everyone can identify with the goals and the steps required to achieve them.
With expertise at your side
Reckers & Griesbach staffs management positions in companies – permanently and on an interim basis. From recruiting to conducting the selection process, we are at your side with professional expertise and a global network. Our mission is to fill your vacant positions with top executives who are a good fit for both you and your company. After all, nothing is more important than having the right person in the right job.
About Interim Management
You don't want to lose any time in your personnel search? We fill transitional and efficient leadership positions with competence and added value. Nationally and internationally. Due to classic vacancy bridging and new projects, there is always a short-term need for qualified leaders. In addition, there may be restructing in the company, whether due to growth, a takeover or scare production and personnel resources. Learn more about Interim Management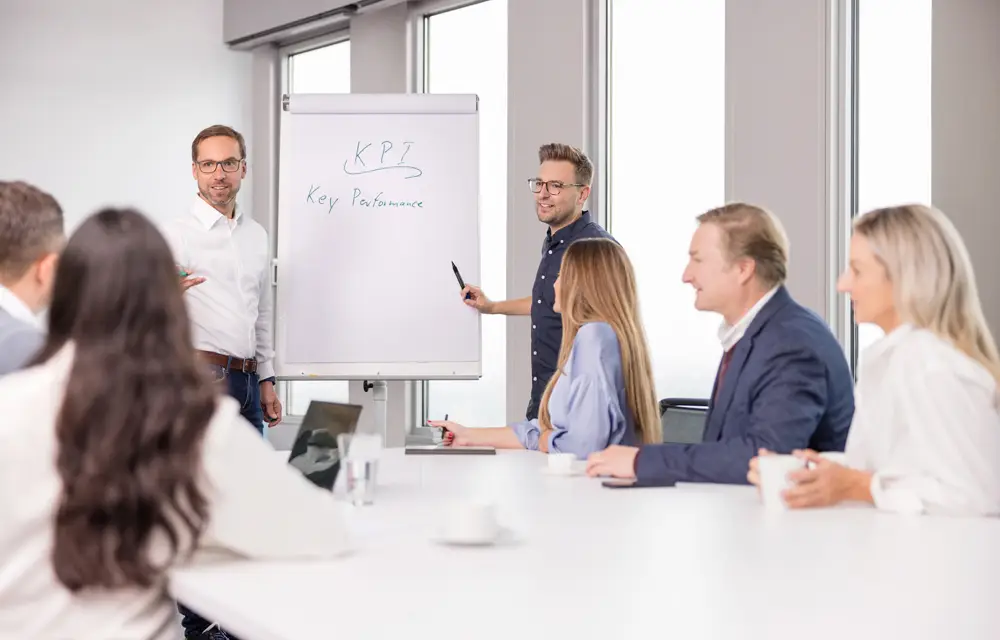 What and constitutes
The human touch combined with expert knowledge
Through our many years of experience we have the necessary industry knowledge and an extensive network. Even so, the most important thing about finding the best talent is this: a sense for recognizing who is perfect for a position. In other words: a person who will bring something new to the table, fit with your corporate culture, and make a lasting, positive difference.
Success comes from taking risks – and being smart about it
After finding out exactly what you need, we take an outside-the-box approach to find the ideal talent. As well as focusing on your industry, we look beyond it to promising people from other fields who might just be ready for a new challenge. We ensure a targeted selection based on customer needs.
Tailormade solutions
We don't believe in catch-all solutions. Instead, we work with you to find an approach that meets all of your needs. If we don't think hiring a new executive is a good idea, we'll let you know. And if we believe an interim or internal solution makes more sense in the current market climate, we'll tell you that, too.
We fill leadership positions. Permanent and Interim.