Interim Manager Human Resources (HR)
Strategically smart solution: Interim Manager for Human Resources
In companies, the position of Chief Human Resources Officer (CHRO) has long since arrived at the top management level, on a par with the Executive Board, and thus is always an important sparring partner, especially in times of change. The HR Manager is responsible for all strategic and operational processes. If this position is vacant, it is important to act quickly and fill it on an interim basis for the duration of the personnel selection process.
A position for all-rounders
The impact of this position, both internally and externally, is more relevant than some companies realize. The fact is: an excellent corporate culture with committed employees is always directly dependent on the HR Manager and the actions for which he is responsible.
A position for all-rounders The scope of duties is demanding. The CHRO or HR Manager is responsible for a pleasant working environment and requires extensive expertise for his tasks. He or she provides HR analyses in order to be able to develop a future-oriented. HR strategy starting with personnel planning, followed by recruitment processes and finally the training and development programs for employees. Especially in times of a shortage of skilled workers, employee satisfaction and providing development prospects are in the focus of Human Resources more than ever before.
It is essential for companies to permanently readjust in order to remain economically healthy and to be able to act in an agile manner. A reliable HR Manager is also an important support in these change management processes. In addition, he or she is an expert in Labor law and, with an eye to the future, an experienced contact when it comes to the topics of diversity, equal pay and inclusion, which are playing an increasingly prominent role.
HR strategies in daily business
In order to be able to make decisions at the management level, sound background knowledge is required. The trends and analyses required for this are linked to digital evaluation tools, which mean that a high level of technical affinity is also essential for this position. Interim HR Managers are used to getting directly involved in daily business without a training period. They obtain an overview of all current processes, analyse the current HR strategy and initiate new measures, while constantly keeping an eye on the company´s future orientation.
In addition to leadership qualities, innovation and analytical thinking, their skills also include a high level of social competence, which they need for their daily work with employees or applicants. During the time of transition, the interim HR Manager also stabilizes the HR team, coaches it individually and develops it in a target-oriented manner, so that there is no loss of effectiveness.
For companies, an interim HR solution means trouble-free and reliable management for all employees, a stable corporate culture, but above all, a partner at eye level. Moreover, the transition period with an experienced Interim Manager always results in well-founded findings regarding the organization, processes and key people, which, in the case of a professional handover of the baton, greatly facilitates and accelerates the familiarization of the permanent successor.
About Interim Manager
Interim Managers, a temporary executive, offer their services on a self-employed basis. Their services are remunerated in daily rates, which already include all other incidental costs. The daily rate for an Interim Manager depends on the expertise he or she brings, the content of the project, his or her responsibility and the duration of the project. An Interim Manager works for a company from a few months to more than a year. The assignment can be full-time or only as needed.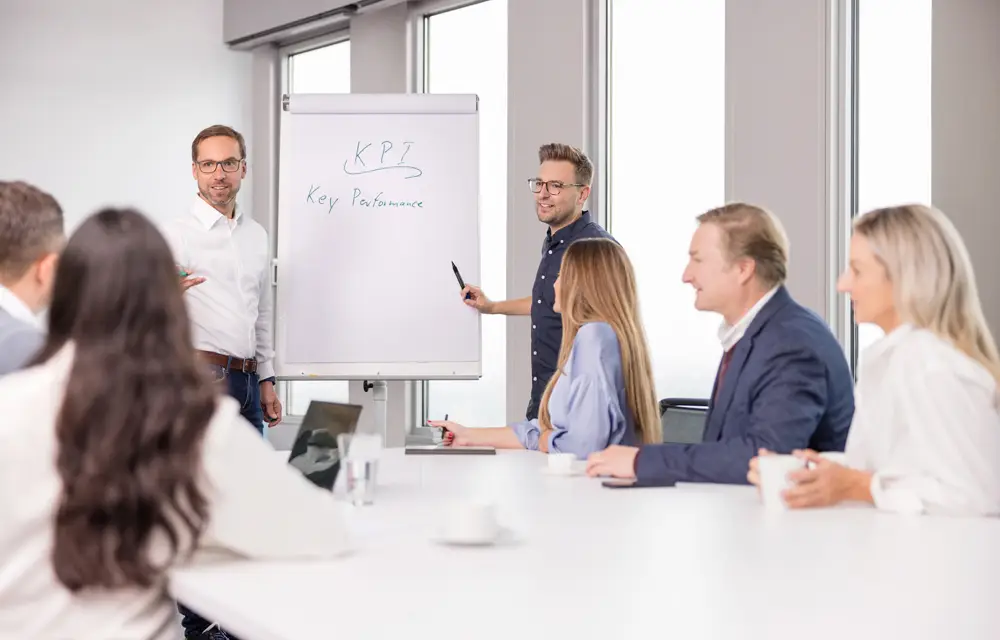 We fill leadership positions. Permanent and Interim.