Interim Supervisory Board / Advisory Board
Why companies benefit from an interim Supervisory Board or Advisory Board
The Supervisory Board supports managing directors and associates in the development and implementation of their corporate strategy. It fulfills an important objective advisory function with a view to business fundamentals. The Advisory Board acts in an advisory capacity depending on its orientation and represents, for example, the interests of customers or acts as a scientific advisor. If a position on the Supervisory Board or Advisory Board is vacant, it should be filled promptly on an interim basis, as otherwise important constructive input would be unavailable.
Unbeatable: professional expertise and social competence
The Supervisory Board´s responsibilities include reviewing the Executive Board´s measures and decisions regarding profitability and relevance and, if necessary, taking countermeasures as well as advising on a corporate strategy. Depending on their professional background, (e.g. legal or business management), interim Supervisory Board members provide advice on content, while always keeping an eye on the profitability of the company.
The Interim Advisory Board offers objective professional know-how, which is a resource that should not be underestimated in an increasingly fast-moving business world. Especially in the case of company acquisitions, mergers or the restructuring of entire business units, the Advisory Board is a great support and contributes to the profitability and competitiveness of the company.
Interim Supervisory Board or Advisory Board
An interim Supervisory Board or Advisory Board possesses distinct professional competences and is able to quickly gain an overview of the entire company and the work of the Management Board. It recognizes opportunities, risks and deficits and acts as a competent partner in the plenum. Thanks to its input, it helps to avoid wrong decisions and investments and to keep the company on track. In addition, interim Supervisory Boards and Advisory Board members are an important resource because their neutral position allows them to remain detached from the day-to-day structures of the company and therefore makes it easier for them to see the bigger picture and think outside the box.
Interim Supervisory and Advisory Board members have a high level of communicative and social competence, are excellent mediators in conflict situations and analyze the current company situation without bias. Thus, companies clearly benefit from their commitment and should not let this important strategic opportunity pass by without taking advantage of it.
About Interim Manager
Interim Managers, a temporary executive, offer their services on a self-employed basis. Their services are remunerated in daily rates, which already include all other incidental costs. The daily rate for an Interim Manager depends on the expertise he or she brings, the content of the project, his or her responsibility and the duration of the project. An Interim Manager works for a company from a few months to more than a year. The assignment can be full-time or only as needed.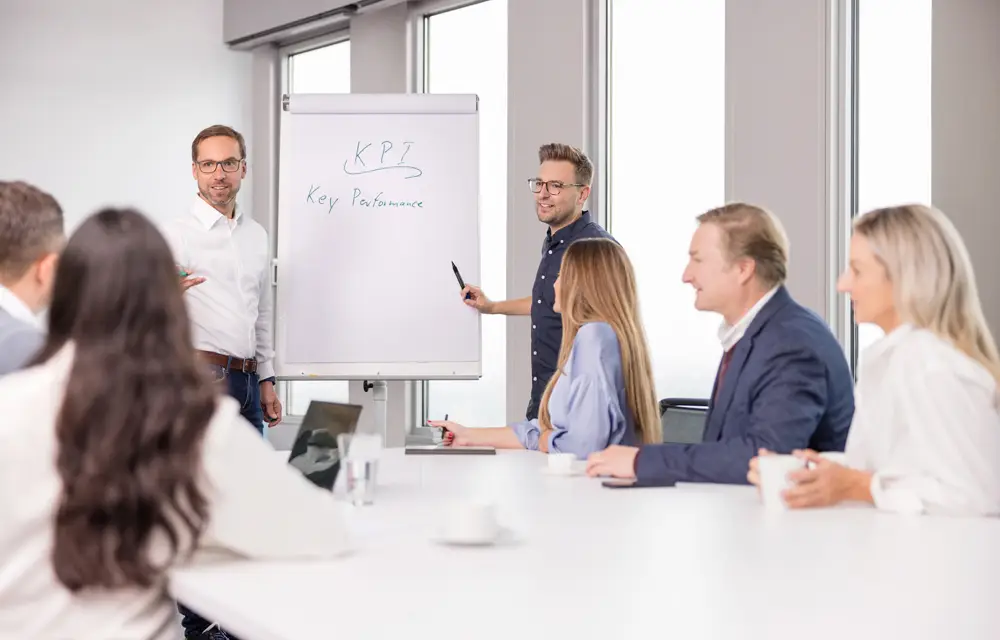 We fill leadership positions. Permanent and Interim.