WirtschaftsWoche ranking "Best Personnel Consultants 2022"
The leading magazine for business, WirtschaftsWoche, has named Reckers & Griesbach "Best Headhunter 2022". Every year, WirtschaftsWoche selects Headhunters in various categories. Also, this year, a survey was launched in which HR decision-makers from German companies were questioned.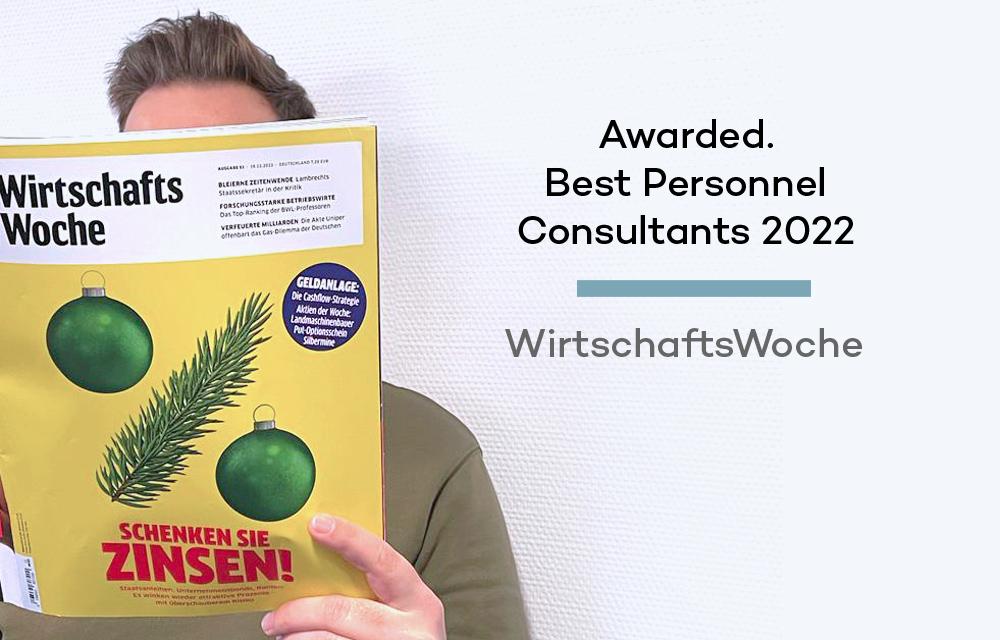 The ranking for the "WirtschaftsWoche best Headhunter 2022" is based on a questionnaire by Christel Gade, professor at the University of Applied Sciences, with the support of the BDU – the Federal Association of German Management Consultancies and the DFK – the Association for Professionals and Executives.
In the process, Reckers & Griesbach was named top Headhunter in mechanical engineering, including industry and metal.
Around 2,300 HR decision-makers indicated how satisfied they were with the performance of the headhunters they commissioned in the period from October 2021 to September 2022. In this process, 830 consultancies were named, and the following criteria were assessed: Utilization, Satisfaction, Awareness and Reputation.
We are delighted to have received this prestigious award from WirtschaftsWoche as the best personnel consultants 2022. We are proud that we have received such positive confirmation and that our daily work methods and quality are held in such high esteem. It is a confirmation and at the same time motivation to continue and to put the satisfaction of our clients and candidates in the focus of our work every day.
A big thank you goes to our clients, candidates and partners who put their trust in us, Reckers & Griesbach.
You can find the complete personnel consultant ranking on the Wirtschaftswoche blog.
Do you have any questions about our services as a personnel consultancy?
Then please feel free to contact us.
We fill leadership positions. Permanent and Interim.