Entrepreneurial success only through good leadership?
How Reckers & Griesbach use their approach to find the right leaders
"We believe that with good leadership and a strong team, every organization will succeed". This is the approach of Reckers & Griesbach. Yet what does this mean in concrete terms when it comes to filling management positions? In this interview, founders Sebastian Reckers and Jan Griesbach explain how this basic attitude and their purpose impacts their daily work – and why this approach actually makes companies more successful. As experienced service providers in executive search and interim management, Reckers & Griesbach have, over the years, consciously come to understand what top quality leadership can achieve.
Interview with Sebastian Reckers & Jan Griesbach
How did you decide on your purpose and how would you define it?
Sebastian Reckers: During a workshop, the topic of ´success through good leadership` began to emerge distinctly as the core of what we do. In terms of content, however, we have basically always worked in this way. We have been working exclusively in this area for a number of years now and it had become obvious: Wherever there was turbulence in companies, the volatility at the management level was very often a decisive factor.
Jan Griesbach: Of course, there are exceptions when a market collapses overnight, or vice versa: A company simply has a fantastic product and is basically still reasonably successful despite poor leadership. In the long run, however, it will always be the leadership that determines the long-term success of a company.
Where exactly does the problem lie in companies, or to put it another way: What do you understand by good leadership?
Sebastian Reckers: For us, good leadership means having a clear vision and goals. However, you follow the path to these goals together with your team. A good leader knows how to communicate the vision, involve his or her team, and thus find the solutions from within the organization itself. This is the only way to ensure that changes have a lasting effect. . In order to achieve this, you need basic cornerstones such as appreciation, respect, transparency and authenticity.
Jan Griesbach: However, it takes time for a manager to become truly effective. We often see that there are too frequent changes in management in companies that are in trouble. A skilled manager must first build up and shape a team, develop and establish a culture, and then spread this culture throughout the entire organization. But this cannot be achieved in just a few months.
How do you go about selecting leaders to prevent this?
Sebastian Reckers: First of all, it is important to build up a precise understanding of the situation of our partners or clients. Only by understanding this can we find the most suitable executive for the particular situation. In our selection process, we focus more on leadership competencies than just on years of experience. The professional competencies and the CV are of course part of our selection process, but in our interviews we focus 2/3 on the "soft skills", i.e. the personal skills, character traits and behaviors. We want to get a clear understanding of the candidate´s motivation and always be authentic as well as evaluative.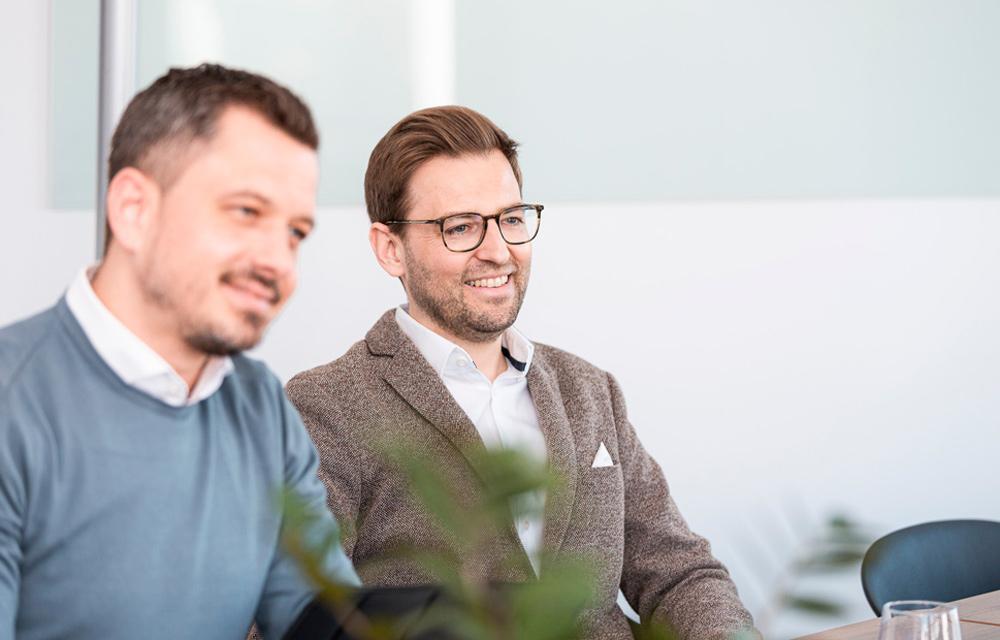 "A good leadership means having a clear vision and goals. A good leader knows how to communicate the vision, involve his or her team, and thus find the solutions from within the organization itself."
In your opinion, how do you think employees can be motivated in this way?
Jan Griesbach: Nowadays, there are very few employees who just want to ´do their job`, to put it in the vernacular. Money is important but it´s not everything. Employees want to know: Why? What is the purpose behind everything? How can I contribute towards it? As a manager, you have to satisfy this expectation and, as already mentioned, actively involve your employees and let them help you pave the way to your goals.
With this in mind, back to your ´mission`: How does is manifest itself in your daily work?
Jan Griesbach: First and foremost, we put the same demands on ourselves as we put on our partners. Consequently we live a culture of appreciation, inclusion, commitment and transparency, and place great value on feedback.
Sebastian Reckers: From an external perspective, it all starts with the fact that we only fill positions that are at the management level. This is our specialization and we do not deviate from it. Furthermore, it is important to us that our partners and clients value competent and high-quality leadership and that we do not have to think in pigeonholes, but can place the best candidates – and often mistakenly, these are not always the most experienced candidates.
About Reckers & Griesbach GmbH
The company was founded in 2020 by Sebastian Reckers and Jan Griesbach. Since then, Reckers & Griesbach has successfully filled executive positions and provided consulting services in a variety of areas such as interim management, executive search and all processes related to the successful recruitment of executives, such as in leadership assessment. Trustful teamwork, the claim to continuously improve and to offer the best possible service to all clients, partners and candidates, are the motivating factors that drive the two of them and their entire team every day.
Note on the page text: For reasons of readability, the language forms male, female and diverse (m/f/d) are not used at the same time. All personal designations apply equally to all genders.
We fill leadership positions. Permanent and Interim.